The backbox portion of the table serves two purposes: to hold the main electronics of the game (easy accessible) and to attract players with a decorative piece of art located on the backglass.
The most important purpose, however, is to show the score during play on a DMD. A DMD (short for Dot Matrix Display) is the part of a pinball machine which is used to show information to the player during their game like their score, active modes, animations or other information relevant to the game. Because of the low resolution of a DMD it ads some very special "retro romance".
In a virtual pinball machine backbox, DMDs are either simulated on the backbox-monitor (single Monitor), a second, smaller monitor is used as DMD (2 monitors) or a real DMD display module is installed in the backbox.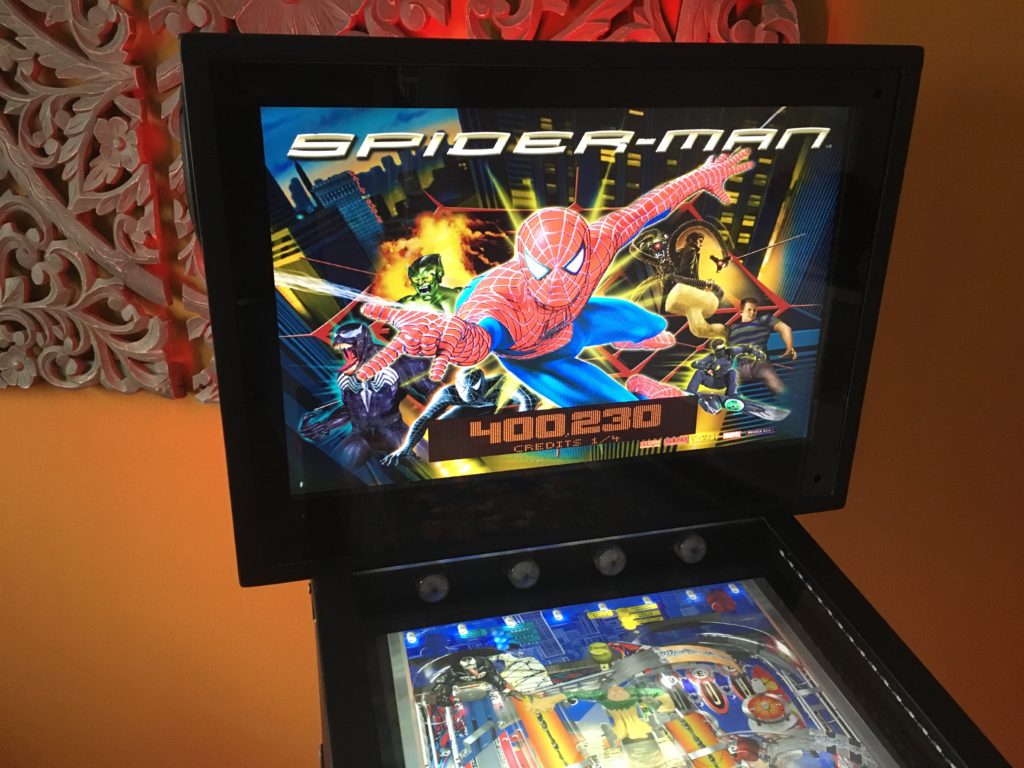 If that is still not enough, a small monitor or display can be mounted on top of the backbox as a "topper".
For my mid-size pinball machine I went with a nice 19′ single backglass monitor and I'm very happy with that. The score is displayed above the artwork in the grill.
For additional visual effects, if've mounted two rows of addressable RGB LED stripes on the backside of the pinball cabinet backbox. Here's a step-by-step on how to set up LEDs stripes in your virtual pinball using a Teensy controller board.
Building a pinball backbox
Using a hole saw, 40mm ventilation holes are sawn into the back wall of the backbox.

Backbox floor: 60mm holes for cable management between body and backbox

Fitting of the backbox speaker left and right

Backbox test assembly

Test-mounted pinball backbox with monitor holder.

Backbox placed on the cabinet. The 3 cable management holes with large diameter provide sufficient air circulation.

Fitting the backbox monitor into the holder. Nicely.

Multiple sanding of the backbox before painting.

Backbox is painted. Well… 3 passes each with time to dry in between.
Virtual Pinball Audio System
For powerfull soundeffects when playing the tables, I've installed two 20Watt broad band speaker (100mm) in the backbox. My audio setup:
Speaker: 2x Visaton FR 10 4 Zoll 10.16cm broad band speaker-chassis 20W 8Ω (Link: Amazon.de)
2x Visaton 10 RS speaker grille (Link: Amazon.de)
Stereo-Amp: LEPY LP-V3S-BLACK LP-V3S Digitalverstärker 25Wx2, Schwarz, Black (Link: Amazon.de)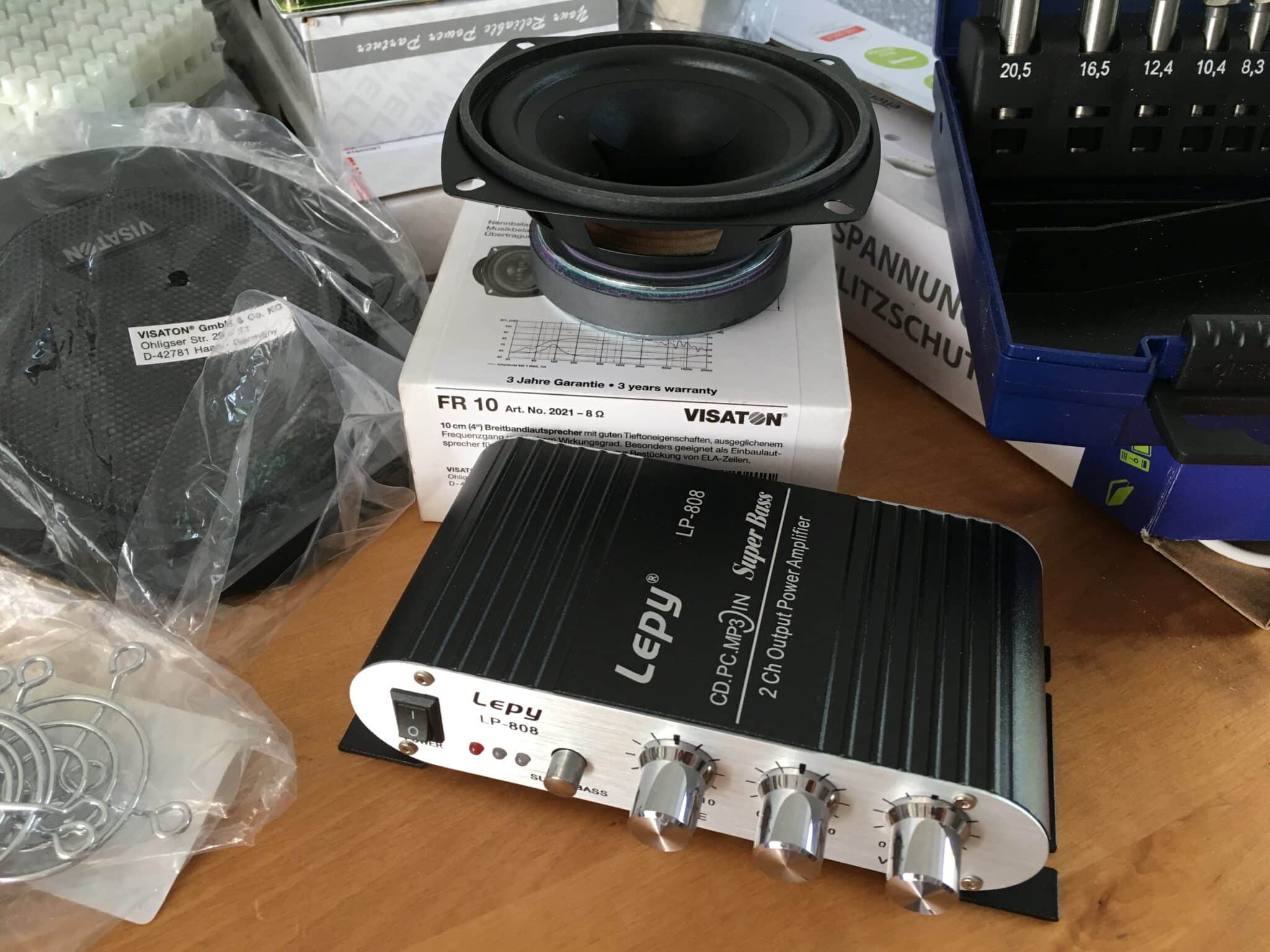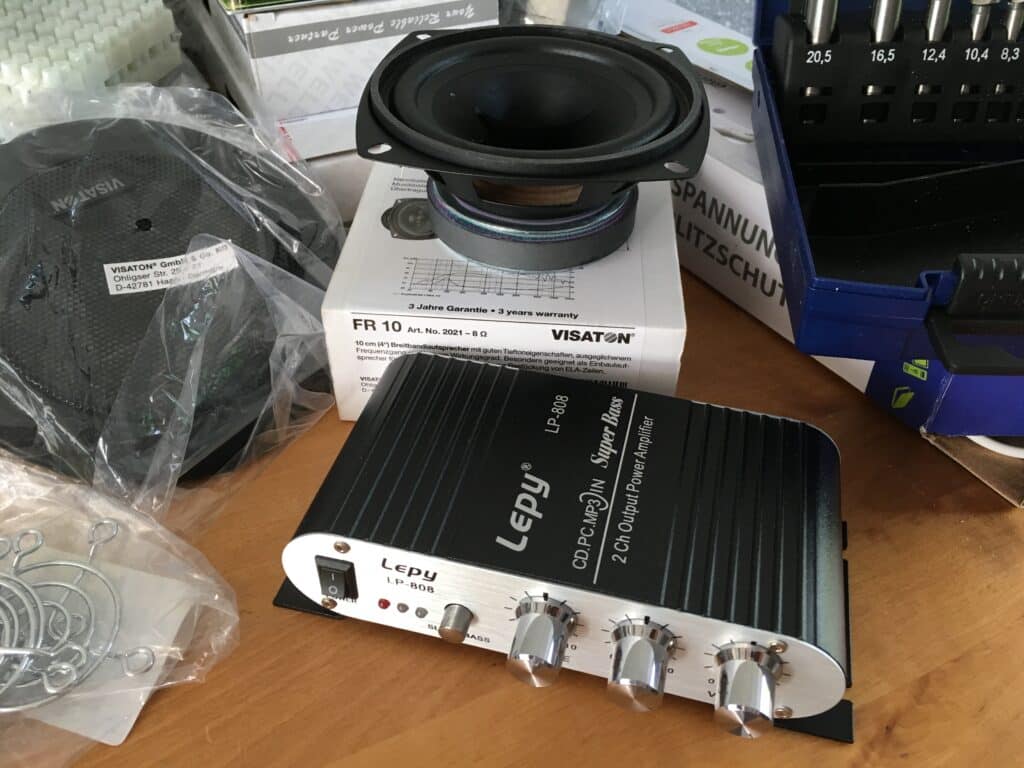 Easy access to the Stereo-Amp through the service door of the virtual pinball cabinet: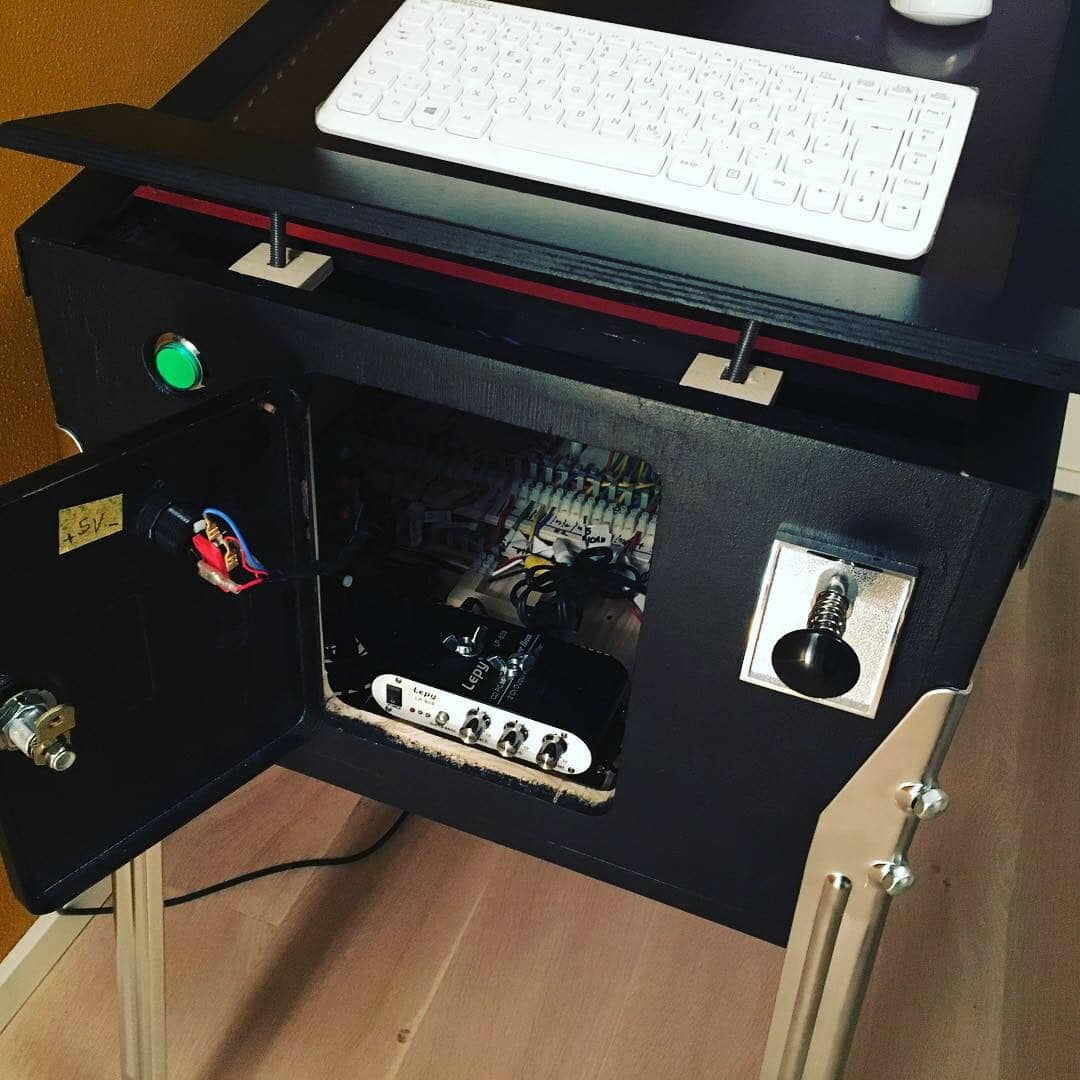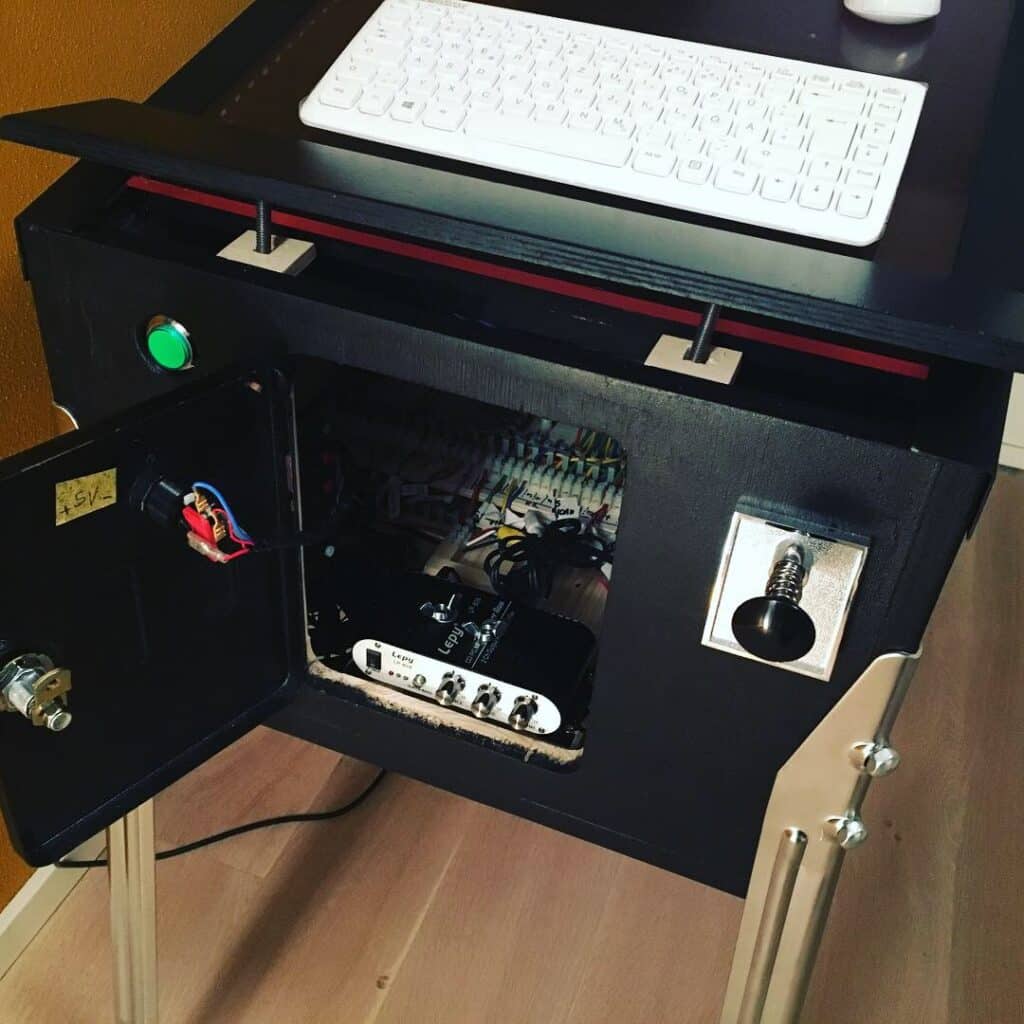 Speaker (20W, 100mm) and speaker grille in the backbox of my virtual pinball cabinet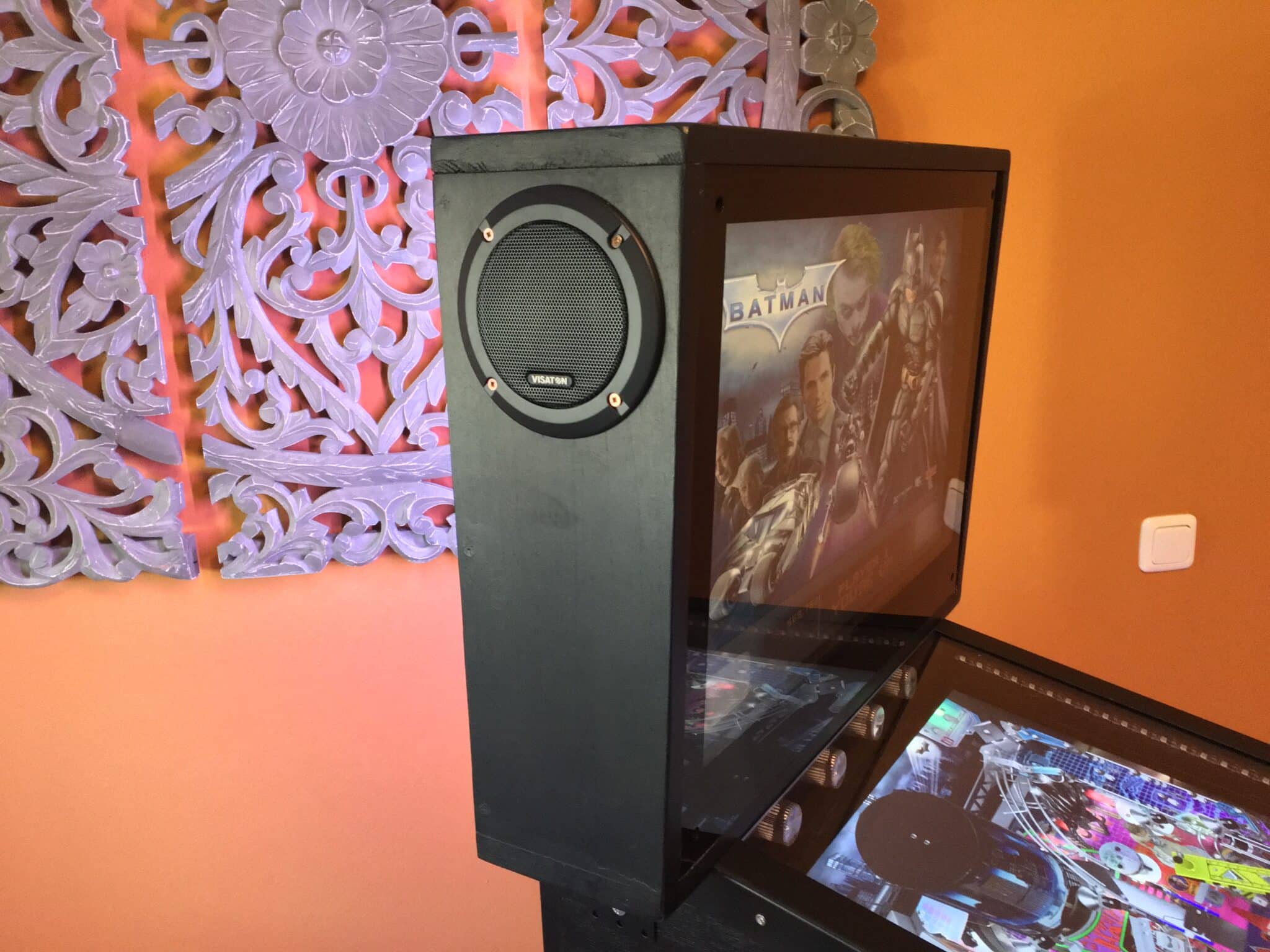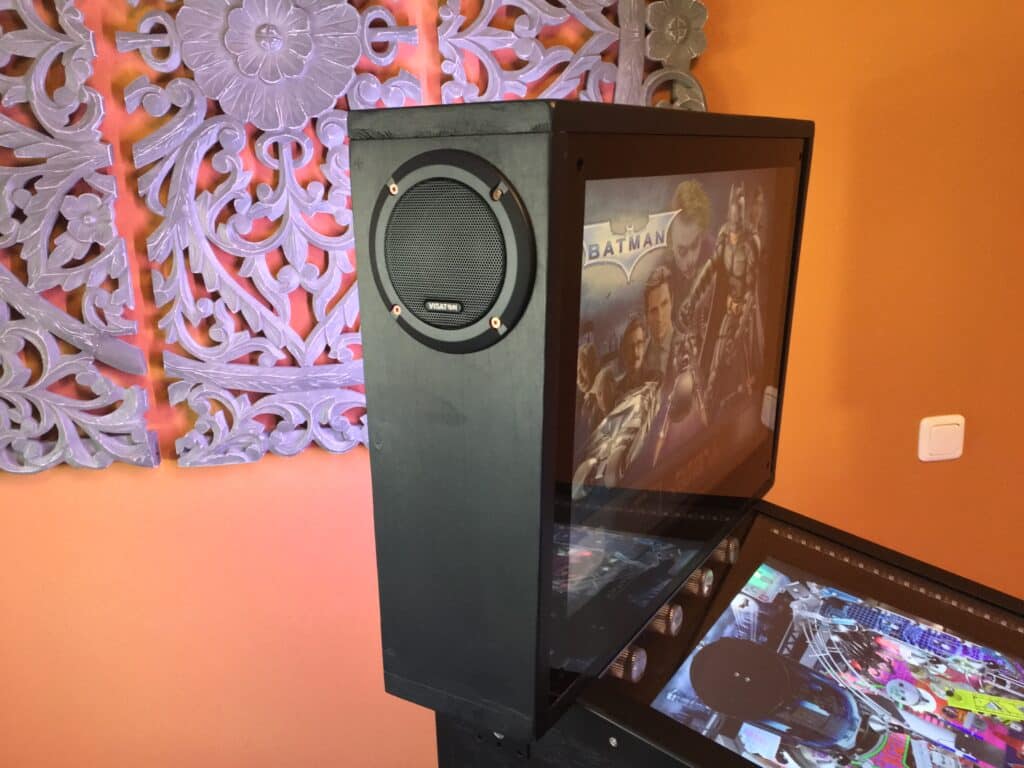 A note about the speakers: In retrospect I would not mount the speakers to the side of the backbox, but would choose a solution with a higher backbox and speakers to the front of the player. Better sound. Is actually logical. A learning for pinball #2.
Next Step: Here's how to to do the backglass for the pinball backbox...